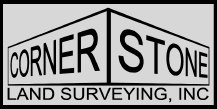 Cornerstone Land Surveying, Inc was started in September, 1999 by Jon Loder, PLS. After a few years, we moved our office to Sparks to accommodate growth of the company.
We are equipped for many different methods of surveying including conventional and GPS.
Services we typically provide:
Boundary
Topographic
FEMA Elevation Certificates
Construction Staking
Land Divisions such as Parcel Maps, Subdivisions & Boundary Line Adjustments
ALTA/ACSM Land Title Surveys
Residential and Commercial
Contact
us
with any questions. Thank you for visiting our site.